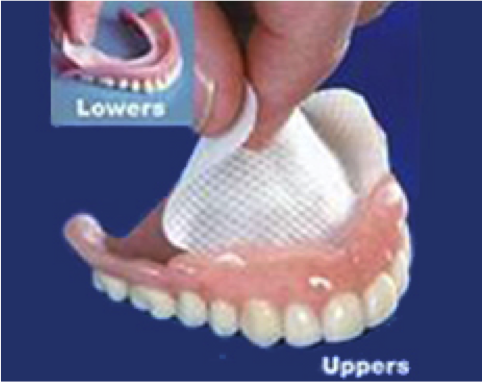 When you are using dentures for the first time, there is a bit of a learning curve. To ensure that you are able to use denture adhesives properly and efficiently, read below.
The first step is choosing a denture adhesive to use. You can choose from cream, strips, or a powder base. There is not one "right" choice and you may wish to experiment with several denture adhesives before choosing your preferred method.

For applying cream-based denture adhesives:
*Use a small amount. You can always use more and you don't want that oozing effect.
*Know that it may take a few trys to get the amount perfect.
*Clean and rinse your dentures. Then apply in short strips.
*To remove, merely swish your mouth with water and then using a rocking motion, remove your dentures. We recommend soaking your dentures in Polident denture cleanser at least once a week to make sure that your dentures are clean (many choose to do so every night).
For applying strips or powder:
*Clean dentures and leave them wet. Place powder all over the part of your denture that will touch your gums. For strips, lay them on the areas of your denture.
*Make sure that you moisten strips to ensure that they stick properly to the surface of the denture.
*Make sure that the powder spreads across every surface for the most comfortable fit.
*Always use a little at a time and try adding more in small increments to find the most comfortable fit for you. The amount of adhesive is a personal preference and one that you will need to determine for yourself.
With these tips, you should be able to apply adhesives to your dentures without a problem. The last step is to check in with your dentist from time to time to make sure that you are using dentures that fit properly. Bone and gum loss occurs after teeth are taken out and you will need to make sure that your dentures continue to fit your mouth properly for adhesives to do their job.